Juice Roll Upz Blue Raspberry 120ml Review
Juice Roll Upz Blue Raspberry 60ml twin pack is a nostalgic, tangy blue raspberry candy-flavored all-day vape.
Few flavors titillate the taste buds like blue raspberry. Juice Roll Upz Blue Raspberry vape juice is a sweet and sour flavor party that bathes the tongue in glorious raspberry juice.
With every inhale of Roll Upz Blue Raspberry ejuice, sour blue raspberry flavor invigorates your palate. On each exhale, the blue raspberry flavor becomes sugary sweet while the juiciness of the fruit leaves you feeling refreshed.
Juice Roll Upz Blue Raspberry vape juice arrives in Juice Roll Upz Blue Raspberry. The 80/20 VG/PG base will give you those huge and thick clouds of vapor with every exhale.
Juice Roll Upz Blue Raspberry eliquid will refresh you while giving your sweet tooth a rush of vaping pleasure.
Package Contents Include:
2 x 60ml chubby gorilla bottles of Juice Roll Upz Blue Raspberry
VG/PG: 80/20
Flavor Profile: Blue Raspberry Candy
Customer Reviews
Write a Review
Ask a Question
Filter Reviews:
strawberry
juice
flavor
place
shipping
vape society
rating
something
batch
coil
06/10/2020
Bryan A.
US
I recommend this product
Great deal and juice
juice tastes amazing and the package got here extremely fast
05/29/2020
Anonymous
US
Outstanding vape site!
With my experience of buying juice online, it's a matter of trusting the seller to send you fresh... you know, not too steeped, really dark, old juice. I received the package on time and the juice was no where near old. Super pleased with my overall experience. The only con would be after a certain amount of juice is put in your cart you no longer qualify for standard free shipping. With that being said it's still cheaper than any other site. Shopping for juice in store is sometimes more convenient due to being able to smell the flavors and really be able to tell if you'd like it. (I'm picky) But the vape stores are still over priced... I'd recommend this site to everyone. You won't be disappointed!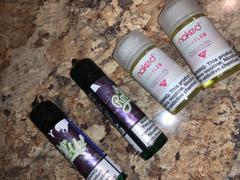 05/11/2020
Madeline
United States
Good
This is a very good blueberry candy flavor. Blueberry is my juice of choice so I've tried a lot and this one is in the top 5. It burns slow, it's sweet but not overbearing, at least to me it's not. No weird aftertaste. It's a little to smooth for my liking but that could be because I vape 12mg and this only goes up to 6mg. It's also a good flavor to mix into other juices that might need an extra boost in flavor. It is the truest blueberry candy flavor I've tried. If my rating was just on flavor alone, it would get 5 stars. And for the coil life, it's not a coil killer, but it's defenitly not the best. I can get a few weeks on a coil chain vaping some juices but this one lasts about a week on a coil so it's not bad, just not the greatest. Overall if you like smooth berry candy flavors, I would recommend this juice and I am VERY picky about my juices so that's saying something. I will be ordering more, and it will probably be my everyday juice, untill I find a 12mg juice to take its place that is.
02/07/2020
Niiko
United States
Blue Raspeberry
Hands down my favorite juice of any that I have tried.
11/12/2019
Matt B.
US
Great company
Incredible flavor. One of my favorites and delivered so fast. I only wish they had 12 mg. Keep up the good work.