The Raging Donut By Food Fighter Salts 30ml Review
There are just some baked goods that simply cannot be controlled. From their outrageous appearances to insane tastes, the lack of control is growing and "raging". Speaking of raging, there's one donut that has been able to do all these things that vapers love. Now with the addition of nic salts, there's no telling what this E-Juice can do. For those who don't know, The Raging Donut by Food Fighter Salts 30ml takes a traditional glazed donut, covers it in strawberry frosting, and adds a nice heaping serving of fruity cereal. A treat this good is sure to satisfy your cravings.
The inhale brings out its sticky, gooey, and savory buttery side that's been kept in dormant for far too long. As your taste buds begin to get hyped up, rich strawberry frosting adds the next layer of pleasure. Once these notes work their way around your mouth, the palate is treated to a classic cereal which can put a smile on anyone's face.
The Raging Donut vape juice from Food Fighter Salts comes in a small bottle with delectable throat hit blend.
Allow your vaping rage to gain total control for all the right reasons, simply by taking a few puffs of this Food Fighter Juice salt-based dessert-flavored E-Liquid.
Package Contents Include:
1 x 30ml bottle of The Raging Donut by Food Fighter Salts
VG/PG: 50/50
Flavor Profile: Glazed Donut, Strawberry, Cream, Cereal, Dessert, Pastry
Quick Links:
Customer Reviews
Write a Review
Ask a Question
12/18/2020
Anonymous

US
I recommend this product
FINALLY FOUND IT IN SALT! :)
My brother recommended you guys and said you have raging donuts in salts , I went straight ahead and ordered 2!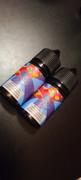 02/21/2020
PhillyHeather

United States
Can't Get Enough!
Yummy doughnuts and salt nicotine – how can you go wrong? This is my new all day vape.