Pink Lemonade by Vapetasia 100ml Review
Is really there a summertime beverage that is more iconic than pink lemonade? This luscious drink never fails to satisfy on the hottest days of the summer season. Pink Lemonade by Vapetasia 100ml is a refreshing raspberry lemon fused drink-flavored juice that's perfect for those hot summer vaping months.
On the inhale, the taste of raspberry lemon will whack your taste buds with intense flavor. Exhale that bright and sugary lemonade flavor that soothes your palate and quenches your thirst better than anything else.
Pink Lemonade vape juice by Vapetasia comes in a comes in a 100ml chubby gorilla bottle. Its 70 percent VG and 30 percent PG base  make it ideal for achieving large and dense vape clouds and a good throat hit.
Guaranteed to satisfy your cravings all day long thanks to its authentic and deeply vape taste.
Package Contents Include:
1 x 100ml chubby gorilla bottle of Pink Lemonade by Vapetasia
VG/PG: 70/30
Flavor Profile: Raspberry, Lemonade
Customer Reviews
Write a Review
Ask a Question
Filter Reviews:
flavors
bottle
delivery
tank
vape society
taste
brand
money
purchase
Blackberry
07/18/2020
Anonymous
US
I recommend this product
Amazing product with amazing product
I'm am blown away with this product price and taste! No lie it's rich and yummy I bought 10 bottles n all are legit name brands! I can Compare them to e liquid depot which I bought 5 bottles n not one bottle was good tasted like rubber I did throw those all away waste of money! So with this purchase I'm very happy and satisfied so tell you vss for being legit will buy again
07/15/2020
Dreama F.
US
I recommend this product
Lemonade
I Absolutely love Vapetasia pink lemonade and BlackBerry lemonade!! I have tried Every Single Brand out there and These are The Absolute Best!! I carry 2 Vape Devices at all times with me so I can switch back and forth with the 2 flavors. I Highly recommend you try them if you like lemonade flavor ejuice! They are so Flavorful and Delicious!! I Would also like to Thank Vape Society Supply for their Efficient Super fast Delivery!! And I liked getting a sticker with my order...Thank You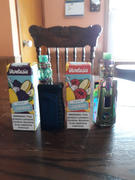 07/07/2020
Dennis S.
US
I recommend this product
Pink Lemonade by Vapetasia
my summer ADV.
06/25/2020
Jonathan J.
US
I recommend this product
Flavor ******
All time fav vape. Super smooth and easy on coils. Has a slight yellow tiny in the bottle but looks clear in my sub ohm tank. Not overly sweet and has a nice lemonade bite. The raspberry flavor is sophisticated and compliments the lemonade perfectly. First purchase from Vape Society was two bottles of this. Delivery went down without a problem. Will buy again and highly recommend
06/11/2020
Anonymous
US
I recommend this product
Missing most of my favs
No circus cotton candy or Tuck shop bubble gum. No grape jam monster. 3mg for months.