Dewberry Cream – Kilo Original 100ml Review
Want something oh-so fruity with just the right amount of splendid creaminess? Well, you're not alone. Dewberry Cream – Kilo Original 100ml brings together the perfect blend of juicy melons and hints of mixed berries smothered in cream. No wonder this ejuice flavor hits home when it comes to being flawlessly balanced between fruity and creamy.
Each draw immediately delivers that mellow and crisp honeydew flavor that soaks each taste bud followed by the slight notes of berry that start to make your mouth water. You'll then discover on the the exhale, everything coming together to give your palate a nice and luxurious bath of fruity and creamy goodness.
This vape juice from Kilo arrives in a large chubby gorilla bottle with an ideal cloud to flavor chasing ratio of 70/30 VG/PG for your vaping pleasure.
Now is the perfect time to keep your cravings in check when simply vaping this amazing e liquid flavor today.
Package Contents Include:
1 x 100ml chubby gorilla bottle of Dewberry Cream by Kilo Premium
VG/PG: 70/30
Flavor Profile: Fruit, Honeydew, Melon, Cream, Mixed Berry
Customer Reviews
Write a Review
Ask a Question
Filter Reviews:
juice
flavors
Vape
place
shipping
friends
orders
vape society supply
day vapes
kilo
06/16/2020
Anonymous
US
I recommend this product
10 / 10 will reorder
came fast like 4 or 4 days and is the best price on internet even with shipping and 10 to 15 bucks less then brick and mortar stores . Also kilo Dewberry cream is my all day vape for almost 10 years now so safe to say its amazing and stays consistent also is very nice to coils wont gunk them up fast at all .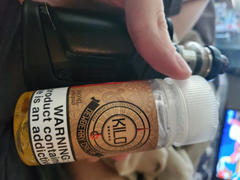 05/27/2020
John B.
US
Dew Berry Cream
I love it hopefully I will have the chance to buy it again
05/02/2020
Michael L.
US
amazing flavour vaping it now
one of my most favorite e-juice to buy and liked by many of my friends I always try to keep a bottle or 2
05/02/2020
Tammy J.
US
Been using dewberry cream for years.
I Love Dewberry Cream
04/15/2020
Rhiannon V.
US
Dewberry cream is my favorite
Definitely my go to juice.