Iced Milk Of The Poppy E-Liquid By Vapetasia 100ml Review
Milk Of The Poppy Iced E-Liquid by Vapetasia 100ml is an innovatively cool mix of flavors that satisfies in every way for which only the Gods of ejuice flavor can supply. A variety of satisfying fruits join forces with rich cream and chilly ice, ensuring that every pull makes your taste buds quiver with unparalleled delight.
When enough vapor glides over your palate, dazzling strawberries in all their plumpness, ripeness and juiciness make you feel absolutely heavenly. Then, crisp and smooth dragon fruit joins the ranks, adding more fruity enchantment to the experience. A menthol breeze sweeps across the mouth and down the throat before luxurious creaminess dominates at the end.
Milk Of The Poppy Iced vape juice from Vapetasia arrives in a large bottle with an immortal cloud chasing base of 70/30 VG/PG.
Truly a magnificent dessert e liquid that will have you in a state of vaping bliss.
Package Contents Include: 
1 x 100ml bottle of Milk Of The Poppy Iced E-Liquid by Vapetasia
VG/PG: 70/30
Flavor Profile: Strawberry, Dragon Fruit, Menthol
Customer Reviews
Write a Review
Ask a Question
Filter Reviews:
flavor
menthol fruit vaper
circumstances
cooling
mood
original
Vapes
menthol
07/02/2020
Jenny D.
US
I recommend this product
Nice cooling vape
I love the original but I'm more of a menthol fruit vaper so I thought I'd give it a try. It is very cooling but the flavor comes through nicely.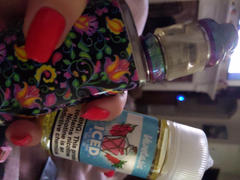 04/10/2020
Timothy S.
US
Milk of the Poppy
Excellent! Got here in good time considering the circumstances and product was affordable and exactly what I purchased!
04/01/2020
Emma94
United States
Creamy and Icy
I've been hearing about this flavor for a while and finally grabbed it since I was in the mood to try some new vapes I never had before. It's really good, I have to say. It's very creamy and rich and the menthol isn't that powerful, which for me is a good thing.