Lava Flow by Naked 100 Salt 30ml Review
Have you ever seen a vaping volcano before? If not, just envision the large one on a remote island that's bursting with hot but juicy fruits. That's what Lava Flow by NKD 100 Salt 30ml is. This nicotine salt e liquid is packed full strawberry, coconut and pineapple juices! With every draw, you will swear that you're sipping on a blissful cocktail while sitting on a luxurious beach. Your taste buds will distinguish each fruit-filled note as it flows over the tongue.
When you inhale, tangy and succulent strawberries and a bath of pineapples drench the palate. With each exhale, that creamy and seductive coconut taste hits the tongue, satisfying you like nothing else can.
Lava Flow vape juice by NKD 100 Salt comes in a 30ml dropper bottle and has a nicely smooth and balanced throat hit base.
If you're the type of vaper who dreams of exotic beach vacations, Lava Flow salt nic is gonna satisfy your tropical cravings on impact.
Package Contents Include:
1 x 30ml dropper bottle of Lava Flow by NKD 100 Salt 30ml
Flavor Profile: Strawberry, Coconut, Pineapple, Fruit
Customer Reviews
Filter Reviews:
delivery
flavor
quality
shipping
prices
order
experience
friends
inhale
taste
11/11/2019
Anonymous
US
Great juice
It's the only salt nic I use. It's always great and you can't beat the prices here are vape society.
10/10/2019
Anonymous
US
Lava Flow 50 MG
The flavor is delicious. It has a fruity taste that isn't overwhelmingly citrus.
09/25/2019
ERIC M.
US
excellent service/disappointed in product
-Satisfied with company/shipping/price -Not-satisfied with product quality that was ordered. -***** 100 brand "Lava Flow" salt e-liquid ordered at "clearance discounted price". Idk what in the world was in the bottle of e-liquid that claimed to be ***** 100 brand "Lava Flow" salt e-liquid but whatever it was, WAS ABSOLUTELY NOT what it was claiming to be. The color was wrong, the taste was wrong, and it was absolutely disgusting and ruined multiple new Caliburn coil pods that were primed correctly and vaped correctly with no chain vaping whatsoever. That batch of e-liquid was so bad it wasn't worth wasting money on the Caliburn pods it ruined. What's going on with that guys? Even my local vape shop was aware of the ***** 100 Lava Flow salt 50mg e-liquid issue. Is that why it was so heavily discounted at clearance price? The same ***** 100 Lava Flow e-liquid I'd been vaping for months had a darker more amber color to it and this new stuff was a much lighter color with more of a golden tint to it than the previous amber color I'd been used to. Would really love an honest answer and would most likely do business with this company again if I could get one. Thank you- Eric Marshall/owner of Goonie Garage in Charlotte, NC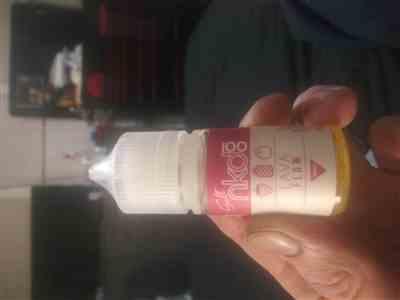 09/18/2019
Anonymous
US
Fast shipping and good juice!
The juice was awesome and the pods came super fast, shopping was easy and fast.
On point flavor
This is one of the best salts I've ever tried (and I've tried many). It has the perfect inhale of strawberry and exhale of pineapple all with a hint of coconut. It's soft and doesn't have a rough throat hit. It's perfect and I will be purchasing it again.