Key Lime Cookie By Ripe Vapes 120ml Review
Key Lime Cookie by Ripe Vapes 120ml has those tangy, sweet, savory, and buttery notes that work together to satisfy the most intense cravings instantly. There is nothing like the taste of tart key lime custard layered on top of a rich and buttery cookie. So, if you want to experience this luxurious combination when vaping, you'll need to grab this E-Liquid today.
As you inhale, your palate will salivate thanks to an incredibly citrusy custard-like that is simultaneously tart and sweet. As you exhale, buttery cookie flavor with just the right amount of sweetness will balance out the key lime flavor beautifully.
Key Lime Cookie vape juice from Ripe Vapes arrives in a massive bottle and has a 70 percent vegetable glycerin (VG) and 30 percent propylene glycol (PG) base to allow you to create some large and thick clouds of vapor during each session.
For any dessert lovers out there, get ready because your sweet tooth will be in heaven as soon as you take your first. Tis guilt-free E-Juice delight is guaranteed to become your new favorite ADV.
Package Contents Include:
1 x 120ml bottle of Key Lime Cookie by Ripe Vapes
VG/PG: 70/30
Flavor Profile: Lime, Pie, Cookie, Dessert
Key Lime Cookie by Ripe Vapes 60ml
Key Lime Cookie by Ripe Vapes Handcrafted Saltz 30ml
Customer Reviews
Write a Review
Ask a Question
05/20/2020
Anonymous

US
Juice is absolutely amazing. Great
Juice is absolutely amazing. Great site to buy from.
Not bad
This was good juice. Not exactly what I was expecting but good juice nevertheless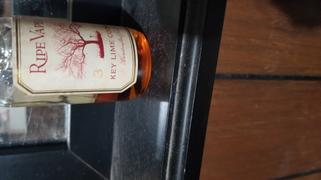 Best key lime flavor I've had
a little harsh though I only got 3mg but it felt like 6 or 12 but the key lime flavor was outstanding