Vapetasia Salts Bundle 3x30ml (90ml) Review
The Vapetasia Salts Bundle 3x30ml (90ml) allows you to indulge in ANY three magnificent dessert, custard, fruity, cereal, and even some menthol flavors. All from one of the most beloved brands in the vaping world. Each Vapetasia vape juice contains exceptional salt-based nicotine for a pleasurable buzz whenever you take a hit.
Mix or Match: 
Killer Kustard Salt: No doubt about it, the best creamy custard flavor, which tastes just like the sweet vanilla custard dessert, that is out on the dessert vape scene today

Killer Kustard Strawberry Salt: Intense exploration of rich strawberry custard

Killer Kustard Blueberry Salt: Mix of custard poured over a bowl of blueberries
Killer Kustard Honeydew Salt: Most silkiest custard and pouring it over a bowl of honeydew melon chunks
Killer Kustard Lemon Salt: Takes fresh lemons and combines them with creamy, sweet custard
Milk Of The Poppy Salt: Blend of milky strawberries and dragon fruit that's given a nice soaking of creaminess that will have your taste buds dancing
Royalty II Salt: A tobacco sensation with the mix of creamy, vanilla custard intertwined with hazelnuts
Rainbow Road Salt: A fruity cereal cloud explosion in your mouth
Blackberry Lemonade Salt: Succulent blend of fresh blackberry and juicy, tart, and sweet lemonade
Iced Blackberry Lemonade Salt: An already refreshing blackberry lemonade beverage is given an extra does of icy goodness
Pink Lemonade Salt: This is an awesomely refreshing raspberry lemon fused drink-flavored vape
Pineapple Express Salt: Intensely tropical and juicy pineapples mixed with smooth creaminess
Iced Pineapple Express Salt: Pineapples and cream are given an nice blast of menthol
Blueberry Parfait Salt: Rich n' creamy blueberry yogurt delight
Iced Milk Of The Poppy Salt: Strawberries and dragon fruit are doused in cream and brisk menthol
Strawberry Parfait Salt: An amazingly sweet n' creamy strawberry yogurt vape sensation
For vapers wild about the tempting treats from Vapetasia, and crave a serious boost of high-quality nicotine, this Vapetasia Salts Bundle 3x30ml (90ml) is exactly what's needed. Best of all, you will save some cash while stocking up on premium E-Liquids.
NOW AVAILABLE!

Customer Reviews
Write a Review
Ask a Question
Filter Reviews:
flavor
vapetasia
Royalty 2
lemonade
raspberry
Deals
purchase
site
bundle
juices
07/21/2021
Anonymous

US
I recommend this product
Loved the deal but
For some reason the taste was off on the killer kustard
01/06/2021
Colton R.

US
I recommend this product
Great
It's a great lemonade and raspberry flavor.
11/15/2020
Anonymous

US
I recommend this product
Good juice
Royalty 2 is great
06/13/2020
Sherry b.

United States
I recommend this product
Best ever
First off this is amazing site back into vaping again never tried salts or mod I love it I have smok mod 2 rainbow . I order this swear like not even 2 days I get it . Killer custard ,honey dew , Rainbow road . They all taste just like describe. Vaping a cupcake With vanilla custard Yinez lol Pittsburgh lol rainbow roads is like eating my childhood fav drinking the fruity pebble milk an honey dew is very mount watering fruit it's like Christmas � so happy !!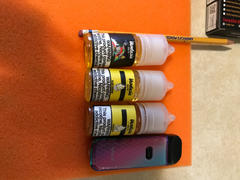 05/27/2020
Keyonda C.

US
Worth the price
I'm very content with my purchase of the Vapetasia bundle. I also appreciated that i was able to choose which 3 i wanted VS it being a set selection and risking a juice I didn't want in the bundle. I believe it was priced fair for the amount purchased. And I've referred this site to many looking for good juices and deals. (: