The Custard Shoppe 300ML Ejuice Bundle Review
Do you dream of creamy, velvety custard like there's no tomorrow? If so, The Custard Shoppe 300ML EJuice Bundle is for you. This bundle gives you their 3 delicious flavors at a discounted price. If you live for custard flavors, you can't go wrong here.
Butterscotch by The Custard Shoppe 100ml: A decadent custard that's blended with the rich and sugary taste of real butterscotch. On the inhale, the butterscotch flavor teases the tongue with its sweet and salty notes. The exhale slathers the tongue in creamy, velvety custard.
Blackberry by The Custard Shoppe 100ml: Titillates the taste buds with tangy and tart blackberry flavor on the inhale. Each exhale drenches the tongue in the smoothest and richest custard that you've ever tasted.
Raspberry by The Custard Shoppe 100ml: A luxurious raspberry-infused custard that intrigues the palate with tartness on the inhale. The raspberry flavor becomes sweeter as a rich and creamy custard bath soaks the palate. On the exhale, the creaminess dominates.
Customer Reviews
Write a Review
Ask a Question
Very good
It was very good . Very excellent customer service
Fair. Juice was old
Fair. Juice was old
Custard shoppe bundle 300 ML
Butterscotch, Blackberry & Raspberry were the bundle I chose. This was my first time buying this brand. I've been vaping Vapetasia Killer Custard for years and in my opinion... The Custard Shoppe is not even comparable to Vapetasia. For me, all 3 bundle flavors lacked CUSTARD. Maybe butterscotch had a slight hint of custard every now & then but not what I'd expect from a brand who's name is specifically geared to be nothing but custard. Both berry flavors are too sugary/sweet. They could revamp these flavors and then they'd have a gold mine. Would not buy these again nor, would I recommend.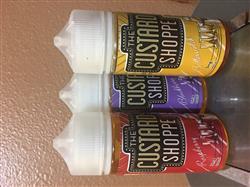 Vape juice
It was grrrreat
Love The Custard Shoppe
Tried all 3 flavors, butterscotch is where its at.