Nic Salt Gost Vapor Sweets – 30ml Review
If you're a gummy candy lover, Nic Salt Gost Vapor Sweets – 30ml is the nicotine salt to try. This sticky, sugary gummy candy is infused with the flavors of real peaches and pineapples, giving this vape juice its refreshing taste. The sugary sweetness at the end delights your sweet tooth.
Every inhale of Gost Sweets ejuice saturates your palate with pineapple and peach juices that are tangy and naturally sweet. Before long, the sweet gummy candy taste makes you feel like you're chewing on your very favorite treat from childhood. The exhale is sugary and juicy.
Sweets vape juice from Gost Vapor Nic Salt comes in a 30ml dropper bottle with a balanced VG/PG base.
Those classic peach and pineapple gummy candies can be yours to vape with every hit of Sweets e liquid nic salt.
Package Contents Include: 
1 x 30ml dropper bottle of Nic Salt Gost Vapor Sweets
VG/PG: 50/50
Flavor Profile: Candy
Customer Reviews
Write a Review
Ask a Question
Filter Reviews:
prices
order
rest
item
stuff
brands
nicotine
cause
coffee
things
04/21/2020
Joel P.
US
Fast service
Got exactly what I ordered in a timely manner.
Nic Salt Gost Vapor
Great flavor, great prices and fast delivery! Thank you E.V. !!!
Ghost vapor nic salts
Excellent exactly what I ordered
12/17/2018
Christopher K.
THE BABY & THE BATHWATER
I dont wanna throw out "the baby with the bathwater" here so ill start by saying that the "GOST VAPOR", Sweets, (grape flavor for the most part, very smooth n just sweet enough, good stuff) this item is very smooth just sweet enough with Grape being the flave that comes through most, can feel the Salt rush at 57mg however that works out i use 06 mg's in my v12 Prince 225 Mag mostly and hit my little NOVO with 2mg pod always filled with Salts, a few times before puffin my Prince for 5-10 mins. Unfortunately, nicotine is addictive and when you carefully change and select your niclics for the month, and pay for good shipping you dont expect ti wait 10 days for your prepaid order with no message saying "we messed up the item that said it was in stick isnt so you wont be getting any of your order for ten days" i had to take my usual flavors of niclics out of my cart cause they said they werent in stock and bougt this Salt and another item ive never tried before cause these said they were in stock my usual prefered brands were said to be out of stock, ***, i have to contact VS after almost a week order still not shipped no email no call my numbers on file ive placed all orders for vape stuff from only them they usually ship promptly but after kniwing i wasnt going to get my order before i was out of my addictive product and when i called them all they had to say was "one of the items you ordered was not in stock" which after explaining that I purposely ordered these items as apposed to my usual brands cause they said they were iut of stock and these were supposed ti be in stock. When you make money off loyal customers selling an addictive item i geel they should feel some sense of responsibility to getting paid for addictitems to thier "loyal customers" cause after all the orders i placed with VS, they really dropped the ball on this order, ive placed several orders since with no issues, my issue is worrying every time i place an order if its going to turn into another 10 day ordeal they could have offered to send a partial order co sidering im a "valued customer" and all and have placed many orders previously and because it was thier mistake and its an addictive product would you trust your corner store if it took you 10 days to get a pack of cigarettes from them??!! And no thought of these things evidently no offer to send items that actually WERE in stock, or send what they have and send the rest when they got it, thats just not cool makes you feel like your loyalty may be naively misplaced .... the GOST VAPOR SWEETS is cool id say 4 star and id buy it again i guess i oike that its strong like first sip of coffee in the morning strong bit of a headrush if ya hit it too many times lol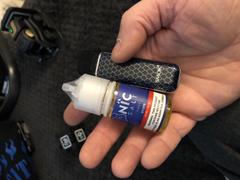 Gost sweets
Wonderful product & service!! Thank you!!