Crack Pie Remix by Food Fighter 120ml Review
Do you get the urge frequently for something rich and savory? Are your cravings making you go mad? For those addicted to all sorts of awesome desserts, get ready for this impactful vaping treat. Crack Pie Remix – Food Fighter E-Liquid 120ml might just be the most decadent flavor that we've ever vaped. A buttery, fresh donut is smothered in sweet strawberry slices, graham cracker crumbs and an unapologetic dose of powdered sugar.
Every inhale hits the spot with that warmly fried, perfectly most doughy taste. Its sweetness intensifies as powdered sugar falls on your tongue. Then, juicy strawberries appear on the palate. When you exhale, the taste of graham crackers satisfies your cookie cravings.
Crack Pie Remix vape juice from Food Fighter arrives in a large 120ml chubby gorilla bottle. Its 70/30 VG/PG ratio makes it ideal for vapers that enjoy creating large clouds while getting a solid throat hit.
This is one rich ejuice you won't be able to put down, as it's simply that vaping good!
Package Contents Include:
1 x 120ml chubby gorilla bottle of Crack Pie Remix by Food Fighter
VG/PG: 70/30
Flavor Profile: Graham Cracker, Pie, Strawberry, Donuts
Customer Reviews
Filter Reviews:
strawberry
juice
service
flavor
shipping
prices
donut
original
Crack Pie
remix
12/18/2019
Anonymous
US
Great ADV!!!
Crack pie and crack pie remix are amazing!! I like to try new flavors, but I always come back to this.
11/22/2019
Anonymous
US
Very sweet
Taste like pecans with ight notes of strawberry and graham crackers.
10/31/2019
Carl G.
US
One of the BEST adv flavors
Foodfighters 3mg crack pie remix has been apart of my rotation for over e year now! It started with the original crack pie, but after learning FF's reworked the formula to add donuts to the flavor profile I had to try it..now I ONLY vape crack pie remix! lol it's got a decadent dessert vibe, it's butter pecan pie, gram cracker crust, splash of strawberry frosted donut with a fat helping of powdered sugar on top! It's PERFECT ADV because it tastes good in the morning, afternoon & night literally ALL day long..I drip it on the wotofo recurve dual RDA rocking a .11ohm alien coils on my single 21700 battery mech mod & it's phenomenal 😈💨🤘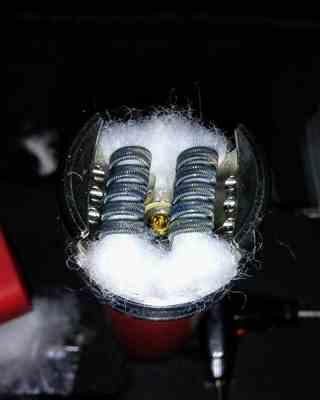 10/25/2019
Anonymous
US
CPie Remix
CPie Remix is the best I suggest everyone buy multiple bottles!!!
10/09/2019
Carl G.
US
Absolutely amazing Flavor 👌
Crack pie remix 3mg has become a top 5 must have e-juice flavor for me. It tastes great right out of the box however after steeping for about a week it REALLY begins to shine! You get a mouth watering butter pecan pie Flavor mixed with a donut pastry strawberries & topped off with a healthy dose of powdered sugar! Those flavors combined make for an e-juice that is unique & delectable at the same time! I actually enjoy the remix (with the added donut flavor) over the original crack pie. I ALWAYS keep a bottle on me at ALL times to make sure I never run out lol. Vape society supplies has GREAT prices, an excellent selection with a decent shipping time. I highly recommend this e-juice as well as this website!