Strawberry POM by Naked100 Salt 30ml Review
Are you in the mood for something truly cool and fruity? If so, it's time to grab your pod and vape away on Strawberry POM by Naked100 Salt 30ml. It consists of a kiwi, strawberry and pomegranate fusion with a hint of iciness at the end, making it one of the best nic salt ejuices out there today.
With each inhale, tangy kiwi flavor exhilarates the taste buds as its juice flows over the tongue. Then, sugary sweet pomegranate and strawberry notes quench your thirst unlike anything else. With each exhale, cold menthol makes the tongue tingle with satisfaction.
Strawberry POM vape juice by NKD 100 Salt comes in a mini bottle with an even fruitier and cooler throat hit blend of 50/50 VG/PG.
This is truly one awesome e liquid you might have a tough time wrapping your brain around, but it's well-worth it for all the right vaping reasons.
Please Note: This product contains nicotine salt it is NOT intended for use in Sub-Ohm Tank systems. nicotine salt is intended for small form factor, fillable pod systems.
Package Contents Include:
1 x 30ml bottle of Strawberry POM by NKD 100 Salt
Flavor Profile: Kiwi, Strawberry, Pomegranate, Menthol, Fruit
Customer Reviews
Write a Review
Ask a Question
Filter Reviews:
flavors
delivery
price
flavor
shipping
prices
order
item
menthol blast
05/15/2020
Kimmie .
United States
THE BEST OF MENTHOL WITH FLAVOR
I used to smoke a pack of Marlboro Menthol Lights everyday.. This is the one juice that kept me from smoking for over a year now. It is my go-to juice. I started out with 50mg.. I had to switch to 35mg because I was getting headaches. I found the perfect combination to suite me. I hate that they have changed the name from "BRAIN FREEZE" to "STRAWBERRY POM" but the flavor hasn't changed. This one is a "must try" for sure!!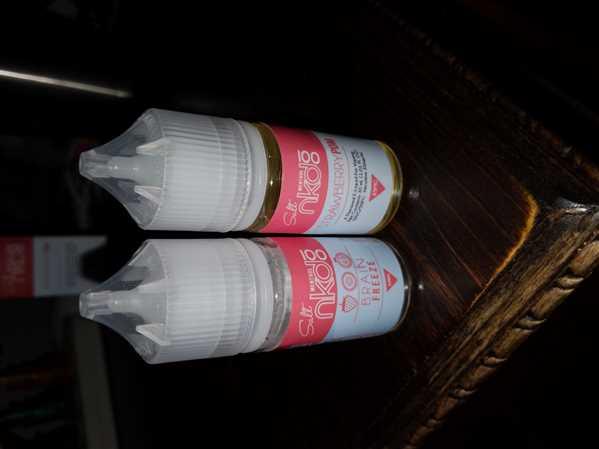 05/01/2020
michael k.
US
Favorite ***** 100
My favorite as a stand alone or as a menthol base to mix with other flavors
04/16/2020
Anonymous
US
One of my faves!
Perfect blend of ice flavor with a hint of fruit. If your looking for something that has that menthol flavor with a hint of fruit this is it! Stronger that most flavors and blends well with other flavor to control how strong you want the menthol flavor to be. Might be my favorite overall flavor so far!
04/16/2020
Anonymous
US
good service
great. Fast shipping
04/08/2020
Traci J.
US
Delicious, good product!
Great in every way, just wish the prices of this stuff would drop a bit!