Candy King E-Juice Bundle 3x100ml (300ml) Review
Do you have one heck of a vaping sweet tooth?  If so, you are not gonna want to pass up a major opportunity to take advantage of all the amazing E-Liquids that Drip More has to offer. In fact, one of their most impressive is Candy King. Now, you can enjoy ANY three awesome candy-like flavors by simply grabbing the Candy King E-Juice Bundle 3x100ml (300ml).
Mix or Match:
Batch by Candy King: Classic taste of sweet n' sour gummy fruit candies
Belts Strawberry by Candy King: That addictive combination of sweet n' sour strawberry flavor
Berry Dweebz by Candy King: Most mouthwatering take on syrupy berry-flavored candy
Gush by Candy King: Soft fruit-filled chewy candy flavor
Hard Apple by Candy King: Sour green apple candy delight
Jaws by Candy King: Blueberry and creamy vanilla candy flavor
Lemon Drops by Candy King: An exhilarating vape flavor that is inspired by those tart and sugary lemon-flavored hard candies that make your mouth pucker with pleasure
Peachy Rings by Candy King: Sugary-sweet Peach gummy candy-flavored vape
Pink Squares by Candy King: Awesome mouth-watering burst of those sweet and tart candy-flavored gummy squares
Sour Straws by Candy King: Consists of a blueberry-flavored licorice candy delight that vapers everywhere will surely enjoy
Strawberry Rolls by Candy King: A chewy strawberry candy flavor
Strawberry Watermelon Bubblegum by Candy King: Juicy watermelon and strawberry flavor with the distinctive taste of real bubblegum
Swedish by Candy King:  An awesome taste of fruity and sugary strawberry-flavored gummies
Worms by Candy King: Tart sour gummy worms tossed in sugary goodness
Overall, this Drip More Candy King E-Juice Bundle 3x100ml (300ml) is a sweet deal in more ways than one!
NOW AVAILABLE!

Customer Reviews
Write a Review
Ask a Question
Filter Reviews:
juice
shipping
candy king
service
order
flavor
bottle
site
Swedish
coils
09/10/2021
Anonymous

US
I recommend this product
Loved it
This is my 2nd time ordering from them and it's the best way to get your vape juice. Comes early.
07/19/2021
Anonymous

US
I recommend this product
awesome
last time i ordered you guys seems to be low on stock, well the companies, just hope they get more product soon
04/07/2021
Natasha J.

US
I recommend this product
First time buyer
I love this site! I will from now on buy my vape liquids from this site. Got to me in a timely manner. Order was accurate, nothing was broken, and the variety is fabulous! Way better prices than any of the shops near me.
03/26/2021
Howard M.

US
I recommend this product
Always excellent
Candy King never disappoints. Always spot on with the flavors. Only "issue" I had, and it was my fault, was upon opening the gushers flavor; I neglected to make sure the top was secured and attempted to fill my Zeus tank.....that inevitably didn't work and the liquid went everywhere. Only thing I'd suggest is make sure the top is on as the bottles tend to take some abuse in shipping.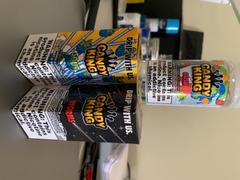 03/24/2021
Roseann S.

US
I recommend this product
great product..fast shipping