Barnyard Berry By Fresh Farms E-Liquid 60ml Review
Imagine waking up as the sun is rising to pick plump blackberries straight from the vine for your morning breakfast. Just to be able to go back to a simpler time when fresh truly was fresh. Well, now you can indulge in that orchard taste with Barnyard Berry By Fresh Farms E-Liquid. It combines farm-fresh blackberries with the perfect sprinkle of crunchy-sweet sugar in order to satisfy your berry cravings like crazy.
Those who chase tangy fruit flavors will adore the burst of tongue-teasing tartness that emerges on the inhale. The juiciness of this flavor is absolutely sublime, soaking into every taste bud while soothing the thirst. The exhale sprinkles the sweet tooth with pure white sugar that can be felt even after you take another draw.
Barnyard Berry vape juice from Fresh Farms E-Liquid comes in a medium-sized bottle with a splendid fog and flavor blend of 65/35 VG/PG that all cloud chasers and vapers in general can really appreciate.
Overall, you will be amazed with the overall berryful freshness and ripeness of this fruity 'barnyard' E-Juice sensation.
Package Contents Include:
1 x 60ml bottle of Barnyard Berry by Fresh Farms E-Liquid
VG/PG: 65/35
Flavor Profile: Strawberry, Raspberry, Blackberry, Lemon
Quick Links:
Customer Reviews
Write a Review
Ask a Question
Filter Reviews:
flavor
juice
none
Other
combination
tart
berries
Lemon
brand
sweetness
05/04/2021
Swall

US
I recommend this product
LOVE this juice!
This juice is in my top 3 favorite ever! The crazy thing is that when I got my first bottle, I really did not like it, almost gave it away. But I kept it and after a few times, I began to absolutely love Barnyard Berry! I even add it to many other flavors to improve them. I taste the tart, sweet lemon and berries! Perfect combination! I sure hope my zip code is covered by the new shipping service after USPS because Vape Society Supplies has the best prices on this and so many other of my favorites! Love VSS!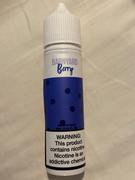 03/26/2021
Brandi

US
I recommend this product
BEST JUICE
This juice is the best! We've tried so many and none compare to this brand! It has the most wonderful and sweet flavor! Definitely reccomend!
03/17/2021
Christina F.

US
I recommend this product
2nd time
The juice inside is morning melon. And the 4 bottles I purchased have the same lot number. I emailed support and it is now 2 weeks later and still have not heard a response. Fresh Farms has mixed up the e liquid like this in the past so I know it is not Vape Society's fault. But I would like to return the 4 bottles and get a different brand. When I can actually get Barnyard Berry it is my absolute favorite! I'm not sure why Fresh Farms can't get it together and stop producing without the melon flavor in it... I absolutely HATE melon lol other than the manufacture's mistake the site is great! Lots of choices and the shilling was reasonable and I received my order in about 10-12days. Thank you!
03/17/2021
Stephanie H.

US
I recommend this product
Excellent experience
Fast shipping great product! Will be ordering again!
03/06/2021
Anonymous

US
I recommend this product
Excellent price, almost 55% off what I pay at retail!
The juice was delicious and has a great price.