The One Vanilla Custard Donut by Beard Vape Co 100ml Review
There are some things in life are simply too vaping sweet to pass up. One of those of course, would be a unique and out-of-the-box dessert. However, dealing with all those calories isn't something most of us can handle. But now there is a way to indulge until your heart's content. Simply grab your mod and take a few pulls of The One Vanilla Custard Donut by Beard Vape Co 100ml. As its name suggests, this ejuice is loaded with richness that will certainly put your cravings in check.
Instantly inhale that custard's pure sweetness as it takes control of your taste buds. Next, creamy vanilla-like splendor adds another layer to the experience. With both notes intensifying, a traditional sugary donut rounds out this flavorful profile to a tee.
This vape juice from Beard Vape Co arrives in a large gorilla bottle with an insane cloud chasing blend of 75/25 VG/PG.
No matter what day or time it is, this is one over the top e liquid sensation that must be added to your collection.
Package Contents Include: 
1 x 100ml bottle of The One Vanilla Custard Donut by Beard Vape Co
VG/PG: 75/25
Flavor Profile: Vanilla, Custard, Donut, Dessert
Customer Reviews
Write a Review
Ask a Question
Filter Reviews:
juice
bottle
delivery
flavor
Vape
items
taste
The One
anything
vape game
07/18/2020
Mike
United States
I recommend this product
The One.. Gets a 3- Lacking Flavor Badly
I love the Fast Shipping & I will only buy from VSS from now on.. Now, on to this Elquid. Pictured upside down for Bad! I'm Not sure who is tasting any flavor from this liquid but all I get is a "Rusty Coil" taste & I'm using a new Cerberus Tank, Mesh Coils. Killer Kustard by Vapetasia is still King. This is so weak in flavor & I'm highly dissatisfied. I was an old school YouTube Vape Reviewer (****** Vape Dude) & I've reviewed Beard Vapes line of liquids when they 1st came out years ago. Most all were great! However, I don't taste anything from this juice. I poured it out & filled the tank with Killer Kustard & now I'm getting that Creamy Vanilla. One thing I've learned in the "Vape Game" is, if you find a liquid you love? Stick with it!! This one is just bad!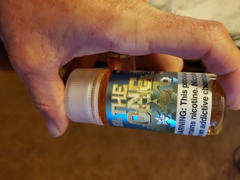 07/16/2020
Richard M.
US
I recommend this product
Excellent e-juice
Definitely would buy it again.
06/30/2020
Damien c.
US
I recommend this product
Wonderful
you did not carry anything by vladdin but the products you did carry the prices were fair and delivery was swift Hats off to you I will use you guys again
06/20/2020
Anonymous
US
I recommend this product
It was ok
it was just o.k. for me...still felt it was missing something
I recommend this product
Great flavor
It has an amazing flavor just as described. It taste like a vanilla donut to me. I love it, will buy again. So far I have tried a ton of different vape juices and my favorites are: The One, Jam Monster (All flavors) Sorbet Pop (Straw Lemon), and Cream Collection by Vape 100 (strawberry flavor). Those are the best in my opinion.